ORCHID LACE LARGE TASSEL POUCH
| | |
| --- | --- |
| Article number: | PAP-FWAPL0076 |
| Availability: | In stock |
| Available in store: | Check availability |
Artist: PAPAYA/FIREWEED (Medford, OR)
This Orchid Lace Large Tassel Pouch is a vibrant, chic women's clutch illustrated with delicate brushstrokes and vibrant hand pressed florals. Durable enough to use for organizing your beauty products, cosmetics, toiletries, art supplies and overnight must-haves or perfect for a glamorous night out on the town. A unique, boho gift for bridal showers, weddings, office parties, birthdays, Mother's Day and more.
• Portable and lightweight
• Crafted with a soft, faux leather matte finish
• Shimmering gold metallic interior lining
• Wipeable linings and exterior
• Double sided with original artwork
• Flat Bottom for easy placement
• Durable metal zipper
• Luxury tassel and gold lotus charm which can be removed and used as a key chain
• Color: Light gray base with white details, purple, green, and yellow florals
Approximate Dimensions:
• Height: 9"
• Width: 14"
• Depth: 2"
ABOUT PAPAYA/FIREWEED:
Mother daughter co-founders Gina and Anahata Katkin originally started PAPAYA in Los Angeles with just 20 greeting cards. Using Anahata's collection of personal sketchbooks, art journals, paintings and design alongside Gina's savvy business acumen and vision, the pair began to share what has become PAPAYA's signature aesthetic. PAPAYA has remained true to its roots through the years pulling art and inspiration from within, and creating a celebrated library of off-beat muses, icons and botanical illustrations. PAPAYA's product collections feature Anahata's current works and are supported by a small team of female designers. PAPAYA is proudly owned and driven by independent female creatives.
"I love the place where pretty and gritty meet," says Anahata. "Where flowers, faces and ink run together. I'm endlessly inspired repeating themes of plants, travel, Victorian era, folk arts, Asian influences, and female faces. I believe in working from impulse to impulse and answering to an intuitive process. I make artwork for myself and then weave pieces into our PAPAYA collections alongside our talented in house design team."
Gina and Anahata have always infused PAPAYA with a deep love for freedom, creative expression and female empowerment.
"This business was founded with deliberate passion and purpose. We believe that success chases passion, not the other way around," says Gina. "We have followed an authentic business model that uplifts and inspires others with our products while also uplifting and supporting us as creatives."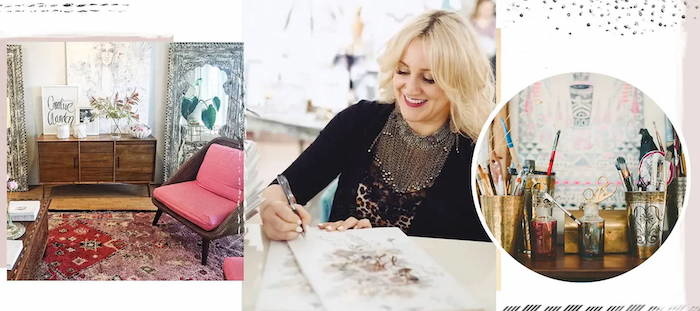 Everything they make is for the joy of creating and the thrill of sharing. Their credo of Creative Abandon means they believe in a no apologies policy of answering to their artistic impulses.
FIREWEED is a celebration of the botanical matrix. Flower and plant specimens have been lovingly suspended in time through the art of pressing and drying. Pulling inspiration from the arts n' crafts movement of the 70s, the Victorian Era archives, Floriography and fond personal memories. FIREWEED is a modern day, interpretative revival of a centuries old tradition based on raw and heartfelt illustrations by artist and co founder, Anahata Katkin.
0
stars based on
0
reviews