| | |
| --- | --- |
| Article number: | JNS-SBHE |
| Availability: | In stock |
| Available in store: | Check availability |
Artist: Jen Stein Studio (Ramsey, NJ)
Wheel-thrown porcelain bowl with bas-relief images made by impressing the clay with hand-carved roulettes. Each piece is numbered and signed. Food, microwave and dishwasher safe. Lead free.
Approximate Dimensions:
• Length: 10"
• Width: 10"
• Height: 3"
* Slight variations are the nature of handmade items.
Jen Stein has always loved clay...for its magical possibilities, for its response to glaze, for its pure sensual pleasure. Since 1994 she has been continuously throwing and modeling functional and sculptural objects – experimenting with form, technique, and glaze formulations. Through numerous workshops with respected professionals, she has broadened her knowledge of working in clay and glazes. She has also taught pottery for several years and has led numerous workshops. She works primarily in porcelain and makes her own glazes, which she fires to cone 6 in oxidation. For the last decade, her focus has been in carving stamps for bas-relief impressions on thrown pots. Most of these stamps she makes in the round to provide a continuous pattern – these are called "roulettes".
Having chosen a theme, she carves around the outside wall of the round (or "doughnut") until the ends meet. The sculpting of a roulette is done in reverse: all surfaces meant to protrude must be carved deep into the clay, and the left and right sides of the image must be flipped - a mental puzzle she thoroughly enjoys. After the roulette has been fired in the kiln, she slowly presses the moist porcelain of a freshly thrown pot into the textures of the roulette, revealing the design. Once the pot has been fired, she brushes a brown stain over the textures, wipes the stain from the surface to highlight the details, and for some patterns she hand-paints the images with multiple colors. As soon as the painting is complete, she applies several layers of food-safe glazes. The pot goes into the kiln for a final firing and is at last ready to be enjoyed.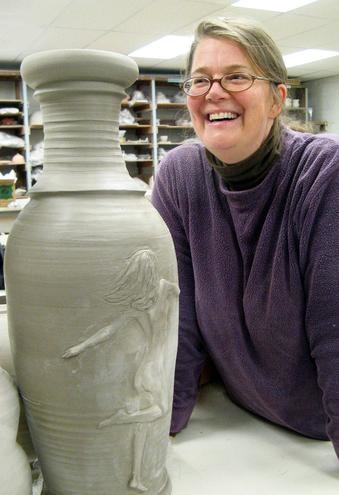 0
stars based on
0
reviews